Triple Savings on Select Holiday Sailings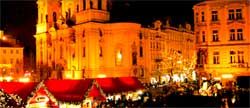 Limited Time Offer: Holiday Triple Savings
Save $1,000 per person + Complimentary Stateroom Upgrade + $50 per person onboard credit.
Solo travelers may take advantage of our 25% Single Supplement Savings.
Must book in BB stateroom or higher. Offer applies to select 2021 Holiday Cruises.
Holiday Cruises
Cruise through the heart of Europe during the most festive time of year and you'll experience
...
Holiday Travel
Hot Deals!

AmaWaterways, we love what we do — providing our guests with the best travel experiences possible. In fact, "Ama" is derived from the Latin word for "love." It is a concept that permeates every aspect of our river cruises, from the design of our ships to the development of our itineraries to the high levels of service we deliver to our guests. It is a philosophy that drives our attention to detail, constant innovation and culture of always making our guests our top priority. It is the reason our
...